Spellings
Recognition
Well done to Maksio and Kobi who have both had excellent weeks. They have behaved brilliantly both in school and during our visit to the church.
Note to parents:
Another half term already and I would like to take a moment to say what a brilliant class this is; it is pleasure to teach them. They have a desire to want to improve in all areas of their learning and are all kind and thoughtful to one another.
In class this week a few of the children have been struggling with reading time to 5-minutes. I've attached some of the work we have been doing so you can go through it with them.
Thursday Ch.2 Thursday Mastery 1 and 2
Usually at this point I show all the project presentations however with all the activities that we've had in class there're too many pictures. I hope this will suffice.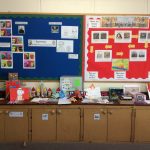 In Science this week the children have been investigating germination and looked at  how their seeds have begun to grow. They concluded that approximately 1 in every 5 seeds failed to germinate.
We also visited the church this week, the vicar really enjoyed the range of questions the children had. A special mention must go to the memorial chapel that is inside the church. (Living in Bushey for 28 years and I regretfully didn't know this was there). Inside it lists all the World War 1 and 2 servicemen who were  from Bushey Heath and went off to fight for their country.
Finally the children finished their digital art work this week. They used bright colours in the style  of Andy Warhol.