Good afternoon!
Here this is week's homework:
It's been a busy and productive week in Year 6! In maths we have been doing loads of work on  length: investigating, converting and applying our knowledge to solve worded problems. In science we learned all about the anatomy of the eye and how the various parts of it help us to see. In PE we made a great start to our hockey unit with some excellent dribbling skills, in French we learned to explain how and when we came to school, and in literacy we kicked off a new unit called 'Fantastic Beasts' by creating some weird and wonderful creatures, as you can see here: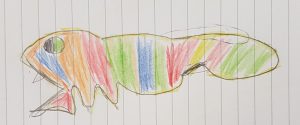 Next week we'll be re-drafting, peer marking and publishing our Fantastic Beast reports, which I'm looking forward to reading! We'll also be pushing on with our measurement work in maths by learning about mass and how can we convert between metric and imperial measurements. In computing we'll be learning new spreadsheet skills. in music we'll be continuing with our fabulous ukulele playing and in DT it's almost time for our trial run in bread baking – a week not to be missed!
Have a relaxing weekend and I will see you all next week 🙂