Good afternoon!
Here is this week's homework:
We've had a great week this week! In maths we completed a week of work all about mass and weight, including an investigation about how we could build a replacement Harry Kane armed only with pencil cases! In science we explored how mirrors manipulate light by creating human periscopes, in DT we completed our first bread bake with some delicious results, and in literacy we published our Fantastic Beast reports, as you can see here: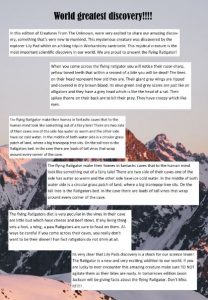 Next week we'll be starting a new unit of literacy all about a first day of school, and completing a week's worth of work about capacity in maths. In French we'll be learning some more phrases to talk about school, in PE we'll be working on our shooting skills in hockey, and in music we'll be working on our ukulele chords – a fantastic week no doubt!
Have a relaxing weekend and I will see you all next week 🙂