Good afternoon!
Here is this week's homework – remember that it's in on Thursday next week, not Friday:
Measurement and Statistics Week 1
It's been another great week! In literacy we started a new unit all about poetry, and have been reading and responding to a wide range of poems all week. In DT we investigated local shelters, in computing we added hyperlinks to our WWII multimedia presentations, and in maths this week we have got the protractors out for a week's worth of work on measurement and angles, as you can see here: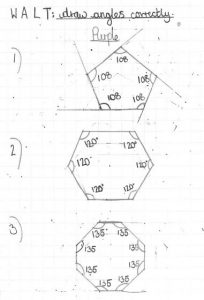 Next week we'll be practising all manner of poetic devices, including simile, metaphor and personification in literacy, as well as drawing and interpreting data from line graphs and pie charts in maths. In science we'll be learning about fossils and their importance in our lives today, in French we'll be applying our learned vocabulary to write sentences about our classroom, and don't forget that no-one will be here on Friday, so make sure you have some great plans for Occasional Day!
Have a fantastic weekend and we will see you all next week 🙂