We have had a wonderful first week of the new term in year 1. We started our new topic: Around the World in 80 Days, and have spent lots of time singing the continents song!
In English we have been looking at traditional tales. We discussed what characters and settings we might see in these and then read and performed some different fairy tales. The children practiced using common fairy tale phrases like 'once upon a time…'.
In Maths we have been learning about 'greater than' and 'less than' symbols and how to use them correctly. The children did an amazing job at thinking about these as hungry crocodiles wanting to eat the bigger number!
In Art we looked at portraits and thought about the placement of different features on the face. We had a go at drawing some self-portraits.
In Science we started learning about the different animal families and the children worked in groups to make posters about them.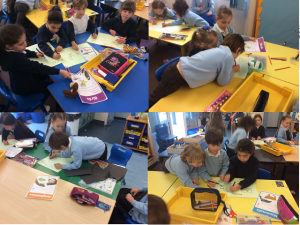 On our recognition board this week is: Johnny, Darcie, Georgia, Toby and Ruby.