This week in English we read 'Monkey and Me' and discussed why the author used repeated phrases in her story. We came up with our own animals to add into the story and learnt actions to go with them.
In Maths we have been looking at addition and the children have been able to add numbers using both resources and a number line. The children really enjoyed the interactive learning and are becoming confident with their addition skills.
In art we read 'Katy meets the Impressionists' and the children created an impressionist piece of artwork using oil pastels in the style of Monet.
In Geography we labelled big maps of the UK and many of us can list the countries and capitals in the Uk from memory now.
We also celebrated harvest this week by learning a harvest song outside and drawing pictures of the food we are most grateful for.
Drawing our favourite foods: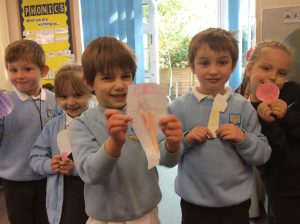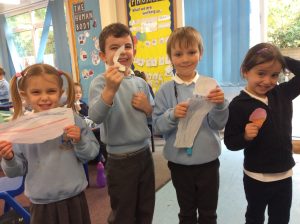 The chidren doing the digging action as they sing: