Over the last few weeks we have implemented some active learning time at the end of each day to go alongside our usual lessons. This gives the children more opportunity to develop their social skills which they missed out on in Reception and allows them to consolidate learning through play and exploration.
Here are some brilliant learning moments from our active learning times this week: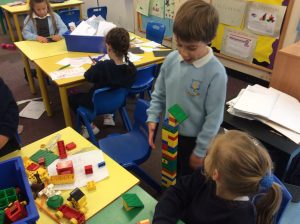 Teddy builds a tower on the table and remarks that it is bigger than him! But when he moves the tower onto the floor he realises it isn't and decides to add extra bricks to it.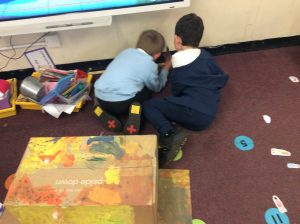 Jesse and Amaury are playing with the superheroes next to the metre stick and discussing how long their different heroes are.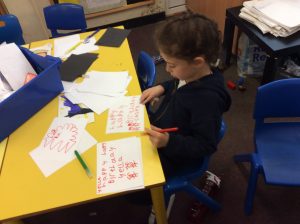 Taylor is writing a vast collection of birthday cards similar to the letters we wrote in our English lesson.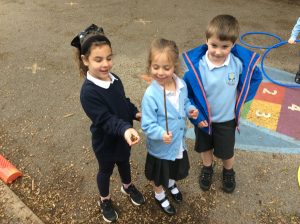 Jessica has found a stick and wonders whether it is a bamboo stick while Levi has a handful of 'tiny apples' and is deciding whether they would be best to eat or plant.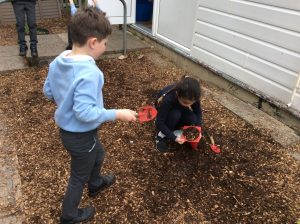 Chase and Mila are making 'mud towers' using an old cone they found.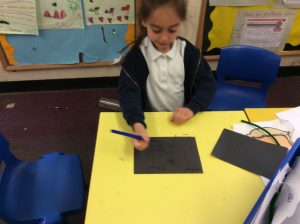 Georgia is drawing a labelled diagram of a plant, just like the ones we looked at in our science lesson.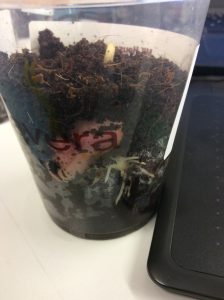 The children loved planting beans and watching them change and grow over time.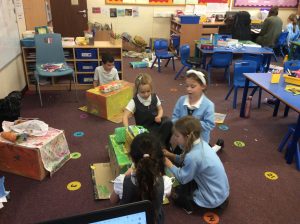 Gabriella, Taylor, Ellie and Mila have lots of small world characters and are creating a family to live in the castle.
On  our recognition board this week is: Oliver, Sophia. C, Mila, Jesse, Jessica, Levi, Betsy.