This week the children celebrated International Dance Day (Thursday 29th).
The children were taught a dance routine (virtually) by Bushey Meads' Dance teacher, Ms Noyan. The routine was performed to the song 'Lovely Day'.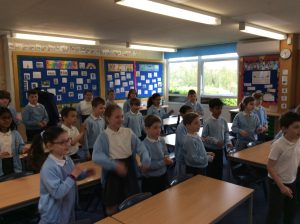 https://drive.google.com/file/d/1ZwCjo7SieXoOmQ1c10-mGL04_I5bRRqf/view?usp=sharing
Also this week, during art, the class began to work on their final designs for the mosaics they will be creating this term.
We're all excited to start putting them together in the coming weeks.