A focus for Hartsbourne at the moment is giving the children opportunities to work on their oracy skills. In class we will be having class debates throughout the year; looking at the pros and cons of different topics.
This week we debated whether or not we should recycle. The children were given some of the benefits of recycling (keeping plastic out of the oceans) as well some of the negatives (it can be expensive).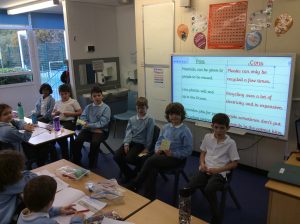 I was impressed with how well the class argued their points, even if they didn't really agree with them, as well how well they listened and responded to each other's points of view.