Hello! We have had another busy week at school and the children have been hard workers!
This week in maths we are exploring problem solving including measures, applying place value and mental strategies. In literacy on Friday we will be planning our newspaper report, prior to that we will be continuing to develop the skills needed to do this successfully for instance using a possessive apostrophe, paragraphs and using standard English.
In D&T we have started our exciting levers and linkages  project, last week we looked at the mechanisms found within pop up books which the children enjoyed! This week we will look closely at the lever and linkages mechanism in order to understand how it works, eventually making a prototype ourselves.
In geography we have been finding out about the UK and locating it on a map of Europe and a world map. We have identified which countries make up the UK, the British Isles and Great Britain.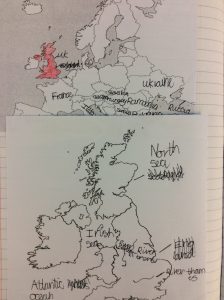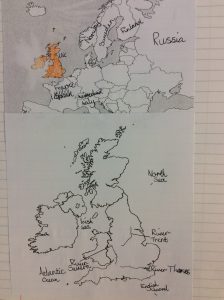 Last lesson, we identified the bodies of water surrounding the UK, as well as some rivers which run through.
We hope you have an enjoyable rest of the week.
Miss FitzGerald and Miss Abeledo