Hello Year 4,
We have been very busy this week! We are writing our own version of the free verse poem The Magic Box, using poetic devices like repetition, alliteration, onomatopoeia and similes. We have worked hard and have written some top expanded noun phrases to add detail and make the verses more interesting. This week, we are also talking about multiplication as repeated addition and exploring multiplication facts, so our multiplication tables knowledge has come in handy.
Here are some examples of our poems (consider we have not edited them yet and therefore they are a first draft!)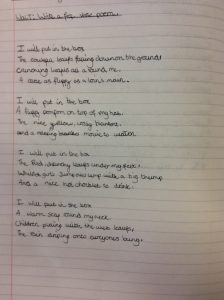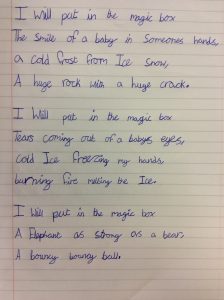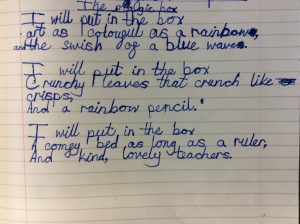 This afternoon, we are sending home pupil's SAM learning log in details, please keep them in a safe place for future use.
We hope you have a lovely half term and you find time to rest and enjoy some family time.
Kind regards,
Miss Abeledo and Miss FitzGerald