Hello Year 4,
It has been great seeing your work this week! We have enjoyed reading your expanded noun phrases and descriptions of being in a storm, looking at your fantastic Anglo-Saxon illustrations and your creative flags using parallel and perpendicular lines. You have worked hard this week and it makes us very happy to see how your are making progress during these difficult times. So please carry on submitting work and showing us how you put to good use what you have learnt.
As always, it is tricky to choose only a few pieces of work when we are getting so many. But we have decided to recognise these three this week.
Casper wrote about being out in a storm, he has included some super descriptions!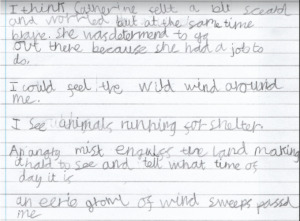 Zoe's experience of being a storm!

Madiha's figurative language.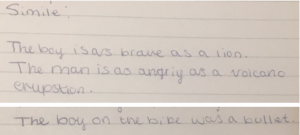 Remember there is also a special mention in the newsletter for those who have made it to the Achievement Book this week 🙂 and even some fantastic pieces of work from all year groups.
Well done Year 4 for completing Week 4 of remote learning, it makes us proud to see your outstanding effort.
Have a restful weekend,
Miss Abeledo and Miss FitzGerald.