Hello Year 4,
Congratulations, you have completed another week of home learning and bubble learning! Well done, it is not easy and we are proud of you for rising to the challenge 🙂
We have enjoyed reading your story settings plans, drafts and final drafts, your decimal number work and many more fantastic learning this week. We were especially impressed by your story settings work through the week, it is not easy to plan, draft, edit and publish remotely but we have seen the amazing effort you have put in and are so proud of your work 🙂
As every week, it is difficult to choose only a few pieces of work to recognise. We were especially impressed by these pieces of work:
Here is Jonah's fantastic plan for a story setting. We loved the amount of detail included.
Here is Olly's scientific enquiry ready to go. Are gases 'weightless'?

We also wanted to share work done by both bubbles from school, we are so proud of the work you have produced in your bubbles, Georgia O'Keeffe would love it just as much as we do!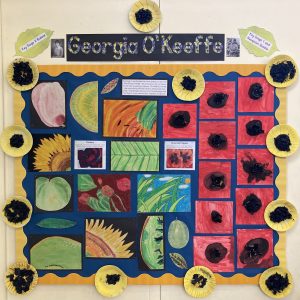 Remember there is also a special mention in the newsletter for those who have made it to the Achievement Book this week 🙂 and even some fantastic pieces of work from all year groups.
Well done Year 4 for completing Week 5 of remote learning and bubble learning, it makes us proud to see your outstanding effort week after week.
Have a lovely weekend,
Miss Abeledo and Miss FitzGerald.