Welcome back,
It is springtime and the entire class have been filled with its manifest joys, and have been full of beans, and happy to be back at school  There has been some fantastic learning happening in the classroom, and the sound of brains being stretched has echoed from the walls.
We have looked in depth at not maths questions, but maths answers. Did you know that a single answer could have many different permutations? Well Year 5 do and they are now adept at working out the best context for an answer.
Can you Adam and Eve it? We are starting our project on the Old Smoke this term! We have started to look at the history and geography of the capital. So expect many conversations in rhyming slang, and requests for jellied eels for snack time, by the end of term.
In science we have started botany. We went down into the woods today to gather flowers, only to return to the field as there were no flowers – plenty of picnicking teddy bears but no flowers. However, we managed to return to class with multicoloured poseys in the end, and have started to investigate what makes a flower a flower.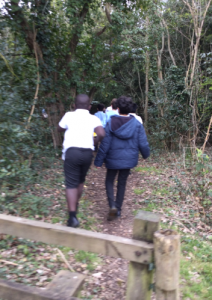 Year 5 hunting for flowers.