Another week gone and we're suddenly approaching half term. Where did the time go?
This week we have been looking at metaphors in our stories here is the opening to Sienna's tale.
As the sun beamed down on the flamboyant flowers the busy bees buzzed away. Then, suddenly, the pixies of England put on their breathing masks as the stench of poison loomed over them. The land of pixies turned colourless, the flowers drooped and cried solemnly. Bewildered, the pixies looked around in disbelief. What had happened?
We have also been looking at Harvest and made some John Barleycorn masks.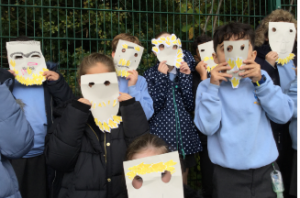 Mr Stevenson