Almost there the final last few gasps before the glorious summer opens up and year 5 metamorphise into year 6ers.
Despite the looming holidays, Year 5 haven't taken their feet off the pedals, if anything they have been working harder than ever.
From creating soliloquies in iambic pentameter, to solving questions of angles around a point, experimenting on simulated bones and drumming in poly rhythms, you name it Year 5 have probably had a go at it this week.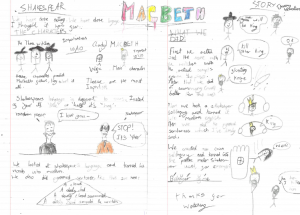 Just take a look at Mackenzie's double page spread about Macbeth.
Mr Stevenson.