Another exciting week at Hartsbourne.
We have been learning about decimal numbers in Maths, and looking at how to solve decimal problems. We have also been improving our language skills and looking to see how we can make our stories come alive and grab the reader, by using lots of description.
Here is how Eowyn started her story:
Flash! The silver bird, tall and covered with ice cold snow, flashed past the gigantic stormy mountains.
I was gripped right from the start.
We have also been looking at the phases of the moon.
Here is Yanni's diagram
.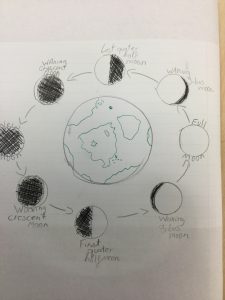 Have a lovely weekend
Mr Stevenson