I was very proud of Year 5 today and their moving poems and singing during the remembrance assembly.
We discussed the First World War and the life of the soldiers in the trenches, and the children wrote all of the poems themselves. Here are excerpts from Robbie's Poem:
Soldiers
Remember them
They did a lot for us
Because of them we are here now
Soldiers
Marching
Avoiding bombs
Sleeping in the trenches
Losing friends and family
Marching
The homework this week is based on the following picture: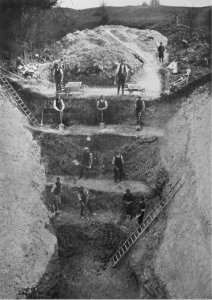 Can you come up with three factual questions (ie what is the person wearing etc.) Three why questions, and (and this is the hard one) three philosophical questions (ie Why do we dance?)
In maths can you solve this conundrum:
Aisha has 46 coins. She only has two denominations of coins, half of the coins are 20 pence pieces. When all the coins are added together she has £16.10. What is the other denomination of coin?
Try and solve the problem, but if you can't see if you can explain which calculations you would need to use to solve the problem.
Spellings are as follows, see if you can find the misspelled one. Can you find a definition for each word?