I hope you are all staying safe and well.
Your parents will have received an email sent by the school office on Thursday 30th April 2020 with an  attached Parent Guide explaining how to join.
I will be able to upload some more interesting work and resources. Each days work will become available by 8:30. You can contact pare[email protected] if you have any problems getting started.
I have been pleased to see the amount of work you have all been doing. Some of you have even gone further and tried other ways to keep your education going in these hard times from vlogging science lessons to trying brand new art techniques.
I have been sent some lovely examples of the work you have been doing this week.
Starting with some beautiful Mandalas from Charlotte and Louisa Segal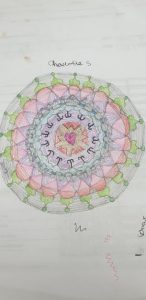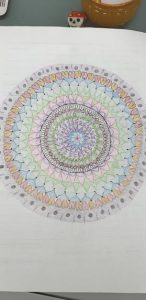 Once there was a tree,
A tree house made just for me.
It had windows and a door, 
Inside was so much more.
Would you please come for tea?
Ethan Woolf
The House within the Tree
The house within the oak tree,
Far from any sky, or some sea
The question is:
Deep inside, what lives?
That is not something to ask me.
Jack Lipman
The lake.
The stillness of the water,
The calmness of the lake.
The gentle swaying of the trees on the bank.
I stood there in that moment of peace,
It brought light to my heart as I stood in that place.
I was in a time of darkness that day,
And somehow it made everything feel okay.
A brightness in a sea of dark.
A tiny speck of blue in a cloudy sky.
I went back to that place years later.
And I went there to find not a forest,
But just a lake and a few trees.
It still had that calmness that stillness,
Yet it was a waterhole in a desert now.
However it still felt like the key to finding happiness.
Henry Futerman
Mr Stevenson