Happy new year!
Homework this week is spellings: Spellings – Week 10
We've had a lovely themed week to kick off this term:  Take One Poem week, with all of our work based around 'The Eagle' by Alfred, Lord Tennyson. We started off by reading and analysing the poem, before writing our own versions. We used laptops and iPads the following day to research several aspects of eagles and used this information to create fact-files on Powerpoint, incorporating several skills we learned last term. We had a debate, discussing whether or not we should change the emblem of our school from a deer to an eagle, but overwhelmingly voted against it, and finally we created some eagle artwork for display alongside our published poems, which you can see here: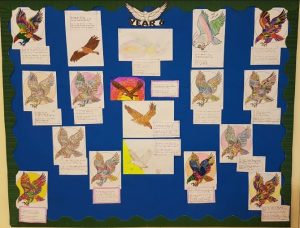 Next week we will be starting new units of literacy and maths – fantasy creature reports and length, mass and capacity respectively. We'll also be learning about the anatomy of our eyes in science, getting started with hockey in PE and looking at spreadsheets in computing. Don't forget that there is a special school dinner menu on Thursday and that Friday is Bright Colours Day!
Have a lovely weekend and I will see you all next week 🙂