Welcome back!
It was so lovely to see you all on Monday morning, and heart-warming to see how excited you were to be back together again. Lockdown was long and challenging for all of us but I'm really proud of how well you coped and excited to see what we can achieve together for the rest of the year. It's fair to say that coming back to school has definitely been an adjustment but I'm confident that now we're a bit more back in the swing of things, the only way is up!
This week we have completed some assessments which will allow me to track where the children are at in their education and make plans to really push on in the summer term. In PSHE we considered mental health and wrote letters to a fictional character, suggesting strategies to help them feel more positive. In music, we started writing some amazing raps with Miss Fort, and it's fair to say that I am really looking forward to them being recorded next week! Finally in science this week we classified some vertebrates, as you can see here: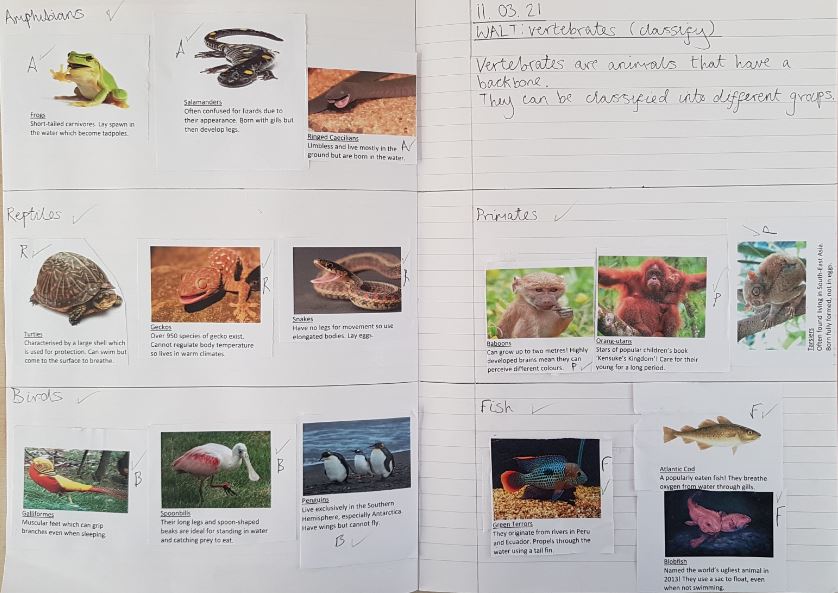 Next week we're going to be revising our sentence-writing skills in literacy, which will be vital after so many weeks of typing on computers rather than writing with pens! We're also going to be learning about ratio and scaling in maths. In geography we're going to push on with our work on population density, in PE we'll be doing some more circuits with Mr Harris and in DT we're going to be planning our bread-making – a fantastic week no doubt!
Have a lovely weekend and I will see you all next week 🙂