Hello!
The countdown to Christmas may be on, but we've still been beavering away in Year 6! In maths this week we sharpened our data analysis skills by calculating the mean, median, mode and range of data, both in numerical and graph form. In DT we completed our shelters, which look fabulous and are on display for you to see at our next Open Door, we have been adding the finishing touches to our WWII presentations in history and computing, and in literacy we published our winter poems in the form of greetings cards, as you can see here:

We don't, however, think much of our new supply teacher…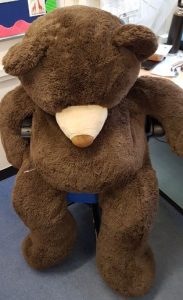 Next week is our last week of term, and packed full of fun things! We have Project Homework Day on Monday morning, our Christmas production Monday afternoon and Tuesday evening, Christmas jumper and dinner day on Wednesday and our annual pantomime on Thursday. We will, however, also be doing some assessments next week, so make sure you get a good rest over the weekend!
Have a festive weekend and we'll see you all next week! 🙂