Hello!
Here is this week's homework:
We've had another great week in the wonderful world of Year 6! In literacy we did lots of grammar work around apostrophes, colons and semi-colons, which will serve us well when we write our 'Carrie's War' diaries next week. In maths we learned how to find fractions of a quantity and percentages of a quantity, using a variety of different methods. In French we learned how to use colours as adjectives when writing labels, in DT we investigated different types of shelter, and as part of Anti-Bullying Week we wrote pledges to keep our school an inclusive and welcoming place, as you can see here: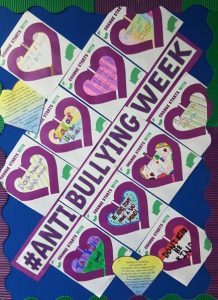 Next week in literacy we will be writing our Carrie's War diaries, which I'm certainly looking forward to reading! We'll also be completing a range of calculations with fractions, including adding, subtracting, multiplying AND dividing! In computing we'll press on with our WWII multimedia presentations, in PE we'll continue with our work on gymnastics and in science we'll be looking at natural selection – a great week without a doubt!
Have a restful weekend and we will see you all next week 🙂