Hello!
No literacy, maths or spelling homework this week, but as it's Project Homework Day on Thursday, here is my list of suggestions just in case you need it:
We've had a lovely Outdoor Learning Week but still managed to get plenty done indoors as well! In literacy we planned, drafted, peer marked and published our science fiction stories, which are looking great! We also solved some problems involving timetables and time, before moving on to positive and negative calculations in maths. We created a Sukkah outside in RE, completed some algebra using leaves and sticks on the playground, and walked the grounds in geography before creating our own maps, as you can see here (no-one informed me that The Duck had been moved!):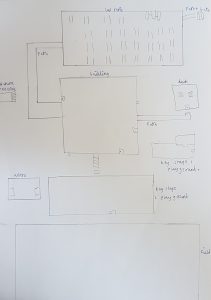 Next week is assessment week so make sure you get plenty of sleep on Sunday night so you're raring to go on Monday morning! I'm also really looking forward to Project Homework Day on Thursday and our history trip to Bentley Priory Museum on Friday – remember to organise a packed lunch and bring a coat!
Have a peaceful weekend and we will see you all next week 🙂