Good afternoon!
Here is this week's homework:
Persuasion Week 1 – Comprehension Text
Persuasion Week 1 – Comprehension Questions
Shape and Measurement – Week 1
We've had a fantastic International Week learning all about New Zealand! On Monday we used the laptops to research and make NZ presentations using MS Powerpoint,  on Tuesday we labelled and coloured some maps of the country and its cities or landmarks, on Wednesday we created our own versions of the New Zealand flag with different colours and on Thursday we created some amazing Maori-inspired artwork. Today we were lucky enough to visit all of the other classrooms and see what everyone else had been doing – here is a little snippet of our work this week!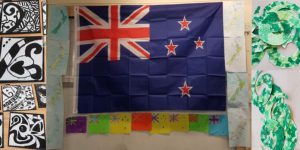 Next week we'll be re-drafting, peer marking and publishing our persuasive letters to Mrs Hudson about improvements we should make to the school in literacy, as well as learning about area, perimeter and volume in maths. In computing we'll be creating artwork using spreadsheets, in art we will be learning about tapestries with a view to creating our own, and in PE we'll be playing some tennis or badminton, depending on the weather!
Have a lovely weekend and I'll see you all next week 🙂