Hello!
Here is this week's homework:
Classic Fiction Week 1 – Matilda Extract
Classic Fiction Week 1 – Comprehension Questions
This week we started a brand new unit of fiction in literacy, writing about a first day of school based on the classic children's story, 'Cider With Rosie'. We also completed a week's worth of work in maths about capacity, including an investigation, converting between units of measurement and solving word problems. We made shadow puppets in science, learned how to say what we do in our break in French, and wrote about Buddhist symbols in RE, as you can see here: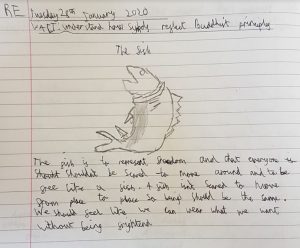 Next week we'll be re-drafting, peer marking and publishing our stories in literacy, and completing a week's worth of work all about co-ordinates in maths. In PE we'll be practising our passing and shooting skills in hockey, in computing we'll be providing the finishing touches to our Fantastic Beast reports, and in music we'll be learning some new ukulele chords – a great week without doubt!
Have a peaceful weekend and I'll see you all next week 🙂