Happy (belated) World Book Day!
As ever, the classroom was awash with colour with so many wonderful literary characters brought to sparkling life. World Book Day is one of the highlights of my year and this one was certainly no different, so well done to everyone for your fantastic efforts.
Here is this week's homework:
It's been another great week in the wonderful world of Year 6! In literacy we re-drafted, peer marked and published our persuasive letters to Mrs Hudson, and in maths we learned how to calculate the area, perimeter and volume of 2d and 3d shapes. In science we learned about the difference between micro-organisms, animals and plants, in French we learned to introduce members of our family, and in computing we created some pixel art using MS Excel, as you can see here: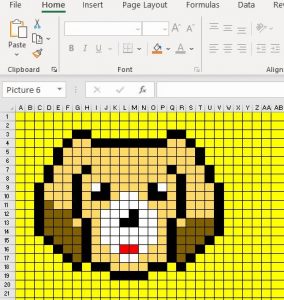 Next week we'll be starting a new unit of literacy all about discussion texts, and a new unit of maths about ratio and proportion. In PE we'll continue with our tennis lessons, in music we'll push on with the ukulele and in art we'll start thinking about our own tapestry – a week not to be missed!
Have a relaxing weekend and I'll see you all next week 🙂