Good afternoon!
Here is this week's homework:
Thanks to all of you who came to our Remembrance Assembly today and who have supported the school all week buying poppies. We certainly felt that the children created a fitting tribute to all of our servicemen and women, past and present.
We've had a lovely first week back and the children have dived straight into work! In literacy we started a new unit of work all about recounts and have recapped our work on 'Carrie's War' as we'll soon be writing recounts from the point of view of Carrie or Nick! In maths we started a new unit all about fractions, decimals and percentages, and have so far been simplifying fractions, finding equivalences and placing them in order. In computing we started creating our World War II multimedia presentations, applying all of the skills we learned in the previous half-term, in geography we began a new unit about climate and biomes, and in French we learned the names for some pieces of classroom equipment, as you can see here: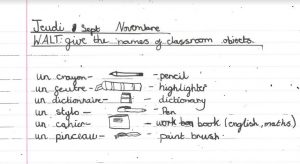 Next week we'll be doing some punctuation and grammar lessons in literacy which will hopefully come in useful when we write our recounts the following week. We'll also be learning how to find fractions and percentages of a quantity in maths, which is always a great skill to learn. In science we'll start learning all about evolution and inheritance, in DT we'll start looking at shelters and don't forget that it's Odd Sock Day on Tuesday as part of anti-bullying week – what better reason to dress a little differently?!
Have a nice weekend and we will see you all next week 🙂