Miss O'Sullivan and Miss FitzGerald
13.12.2017
Year 3 are very excited to perform to everyone this afternoon and tomorrow evening!  This week in maths we will be recapping multiplication and completing a 'Christmas maths mystery'. 
We were concentrating on a photographer during art lessons called Julia Margaret Cameron, her portraits were different because they were covered in scratches and smudges. We took 'selfies' on the ipad and worked over them with charcoal, 3B pencil and pastel. Here are some of the results:
We are so impressed with the half termly homework that has been handed in so far!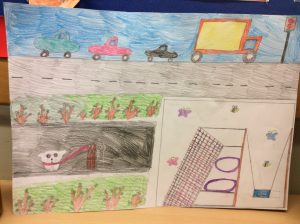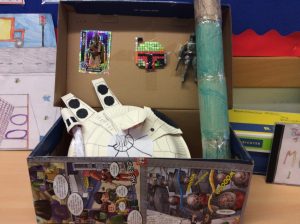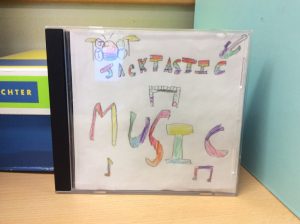 This will be the last blog of 2017, so we would like to wish you all a very Merry Christmas and a Happy New Year! 
Miss FitzGerald and Miss O'Sullivan
6.12.2017
Good morning!
Christmas is fast approaching and the children are enthusiastically preparing for the show; squeezing in singing and rehearsals between lessons. The children will still be doing spellings and rock star times table next week so please check show my homework. We are looking forward to seeing the half termly homework that the children have produced. 
Next week in English we will focus on a book and complete activities around it that link to the year 3 objectives. In maths this week we have been rounding and will return to division/multiplication. 
Rock star xtables x4 and the inverse
Have a great week! 
Miss FitzGerald and Miss O'Sullivan
18.10.2017
Good morning, a few reminders this week:
please bring in ingredients for our healthy wrap on Thursday 19th October
we have our Harvest assembly on Friday, please can children keep learning their lines at home
half termly homework was due yesterday, 17th October, please bring it in or e-mail it to the office
spellings and rock star superstar times tables will be set as normal on showmyhomework from Friday – rock star times tables x4
Thank you for all of your support so far this term.
Have a super  break!
Miss FitzGerald and Miss O'Sullivan
11.10.2017
Everyone looked great on Red, White and Blue day! We talked about the importance of the day and made spitfires to use on the playground. The children have been working hard this week planning and writing their fables, these will be published in their learning journeys.
Next week is the Harvest assembly, where we will be exploring and presenting information on the work of the Red Cross. It is also assessment week (next week), a chance for us to review their learning so far in year 3. I'm sure some of you may be aware that we are making healthy wraps in DT, I will put a sign up sheet on the door towards the end of this week, we'd be really grateful if you could sign up to bring one ingredient in to contribute to the lesson.
The children have really been enjoying their recorder lessons:
A reminder that half termly homework is due Tuesday 17th October, the children can choose a bullet point from the list that I have uploaded  to show my homework to complete.
Rock star times tables for next week will be x3 (we do the rock star challenge on a Tuesday and Friday).
Miss FitzGerald
4.10.2017
Congratulations to our Councillors, Thasanmee and Henry, who won the majority of the votes. This week the children have been looking at the morals found within fables and dabbled in a bit of acting! We will also be looking at using speech punctuation correctly, so that we can apply it to our fables that we will write next week. In maths next week we will be returning to fractions to further our understanding of finding quantities of amounts and ordering.
Rock star times tables for next week will be x3 
A reminder that Friday is Red, White and Blue day, we will be discussing the meaning behind this day. During guided reading we will be focusing on an author, the work produced will help become part of our year group display in the hall. 
Miss FitzGerald
27.9.2017
School Councillors will be chosen this week during Friday's assembly and I can not wait to hear the children's manifestos! We will listen to everyone who wants to run, then vote in secret and await the results on Friday. Good luck to all those going for it! The children will also have their first recorder lesson today, which they have been eagerly anticipating! 
Rock star times tables for next week will be x5, some children will also do the inverse. Please check show my homework on Friday. 
The children have been getting creative by exploring free verse poetry this week and throwing in some figurative language. I hope to upload some examples on the blog next week, the new topic will be fables. Next week in maths we will focus on multiplication, division and using the inverse to check answers.   
Miss FitzGerald
20.9.2017
Welcome to the Year 3 class blog! We really have had a busy couple of weeks. I just wanted to remind you of some of the key points from meet the teacher last week:
Please check your child's reading day on the classroom window
Ensure that they have their reading record in their book bag so that we can access them during guided reading
Homework will be set on Friday, spelling tests are on the following Friday and Mathletics is due Tuesday
Writing sentences for spellings is optional 
Half termly choice homework, select one bullet point per half term
We have been writing instructions in literacy, firstly the children had to write detailed instructions on how to turn Miss O'Sullivan into a frog! We are now coming to the end of the topic and we will be starting free verse poetry next week. Recently in maths we have been focusing on place value and fractions. As of next week we will look at estimating when adding and subtracting. 
Rock star times tables for next week will be x5 and please check showmyhomework on Friday. 
Here are some snap shots of our learning from last week. We used P.E equipment to create the human body and drew maps for our instructions! 
Miss FitzGerald