17.7.18
Well we're heading into the last few days for Year 5, and its been a great privilege to teach such a great class. We've all learned so much this year – from Fair Trade to Sweeny Todd and read everything from The Wombles to The Highwayman.
Good luck in year 6.
Well done to our French Mini Olympians who went off the Bushey Meads to compete against some other schools in a day long French quiz in the scorching sun. We didn't win, but we certainly didn't disgrace ourselves. Everyone came back with a certificate and a medal.
Tres bon:
Libbi, Nathael,  Erwan, Aryan, Leo, Emily, Lana, Sophie C, Charley and Sofia.
 Our final projects were in and an interesting bunch they were too but special mention does have to go to Beyza and Lana for their hard work. Sofia's Matisse inspired art scene was sublime, and once again Megan has created a beautiful diorama – this time of the Wombles.
Have a lovely Summers Break and enjoy year 6
Mr Stevenson
What a busy couple of weeks it has been, first the amazing class assembly. Well done to everyone! You were all brilliant, and as Mrs Hudson said, your hard work certainly set the bar high!
We've also had all the homework projects in , and once again you have surpassed yourselves!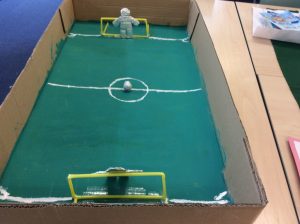 Samuel's Football game.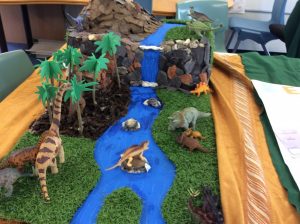 Megan's Jurassic Adventure (on permanent display in the School Library).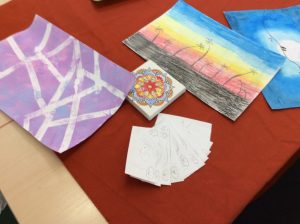 Grace's Art Work.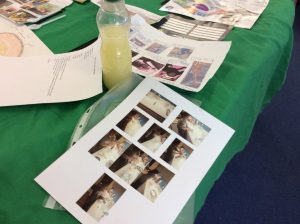 Ruby's Lemonade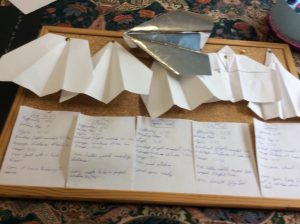 Austen's Paper Plane experiments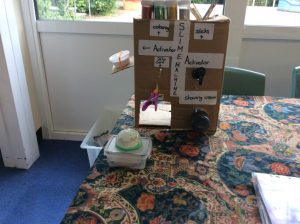 Jessie's Slime factory
Well done to everyone.
9.5.18
well so long then to Mrs Hulevych, who has left Hartsbourne for an exiting new career as an accountant. She has provided invaluable help to all the children in Year 5 and across the school. She will be greatly missed by Year 5, but we all wish her well in her new role.
This Friday (11.5.18) is the Year 5 assembly, so you will get a little idea of what we have been up to for the previous couple of terms. Just a quick reminder for all "costumes" to be in on Thursday.
Mr Stevenson
1.5.18
Spring is finally here – make sure you've got your woolly hats and wellingtons! Next week is the May Day bank holiday, and the children have learned all about May Day celebrations, so expected a spontaneous outbreak of Morris Dancing and keep an eye out for the Green Man.
On Wednesday we will – under the supervision of Mrs Suji – be baking scones, or "scownes" depending on how you pronounce it. This will be savoury scones (or Scownes)  so don't worry about whether you put the jam on the cream or the cream on the jam.
Mr Stevenson
23.4.18
Today was the day of the K'Nex challenge. The children were asked to create a crane with moving gears using K'nex pieces. Congratulations to Leo and Austen, for their wonderful crane. They won, not only a silver medal apiece, but also the respect of the whole class. Who knew we had two fantastic engineers amongst us.
20.4.18
Well done to the Year 5 boys who played in the football match yesterday (19.3.18), although it wasn't the win we were hoping for, they showed remarkable skill and ability and really did us all proud. And talking of sports, PE is now on a Monday afternoon with Premier Sports.
Next week we shall be learning all about how to really comprehend a text in English, and in math how to turn everything into a statistic.
Also just a quick reminder the half term projects are due in on the final day of the half term.
Mr Stevenson.
26.3.18
Some wonderful projects from all of the children. It was fantastic to see such displays of ingenuity and engineering. So many great pieces but special mention has to go to Ruby's horticultural light box, Lana's crayon pictures and volcano, Jessie's 9 different projects. Austen created and made an amazing cam shaft driven caterpillar and Jessica designed a working Ambulance.
Have a wonderful holiday
Mr Stevenson
20.3.18
It has been great to welcome in the lovely Spring weather this week – with hats, coats and snowmen!
This week will be revising this terms maths, and finishing our stories in English.
In History we will look at Charles Booth's Poverty Maps of London, and science we will discuss changing states of matter.
Mr Stevenson
14.3.18
Sad news this week.
Unfortunately due to circumstances beyond our control the visit to The Tate Modern on Friday has been cancelled. However, in its place we shall be having a full day of Art.
Even sadder news is that Miss Trollope who has been studying teaching with year 5 will be leaving at the end of the week. Her contribution to the class and Hartsbourne has been outstanding, we wish her well and will miss her, and her excellent classes.
Mr Stevenson
2.2.18
It's been a while since I've posted on here but normal service has been resumed.
It's been a fantastic half-term, and we have learned so much about so many different things.
In History we have learned about the Crimes and Punishments of the Georgian times in a court room  presided over by the very stern Judge Trollope. It was a grisly period in history, and some of the things you could get punished for then wouldn't even raise a comment today.
Science has all been about the changing states of matter. Did you know that most of the universe is made up of matter that we can't measure? we call it dark matter, it is flowing right through us now.
By the way be warned if you go swimming look out for Gums the Shark – the main character of the comedy stories that the children are writing.
Mr Stevenson
18th October 2017
It's the final week of the half term. What a half term it has been! we have covered so much,  learned so much that in such a short time. I am  so proud of all the class, and have been amazed at their progress so far.
Well done everyone!
10th October 2017
So we're ready for another week in Year 5. In English we are concentrating on The Iron Man -the Ted Hughes novel, not the Marvel comic. We will start writing some reports all about this mysterious visitor from nobody knows where.
In maths, we have covered all the ground bases and secured our knowledge of addition, subtraction, multiplication and divio resemble little Tasion. So we're ready to start fractions!
In science we are still floating around the solar system, before landing in Athens way back in the Bronze age (in History).
Two reminders, homework projects need to be in next Monday, and also can all Children bring in an oversized shirt or some overalls for Monday as well as they will start to make their Greek Columns.
Mr Stevenson
27th September 2017
Here we go with another week of wonder and learning. For the previous couple of weeks we have been looking at fairy tales, Myths, Legends and Folktales. At the moment we are examining the story of King Arthur and The Sword in the Stone. Is it Legend or Myth? Now that is an interesting question.
We have started to build up word-hoards to help us describe our characters and build our vocabulary. So Merlin is no longer just a magician, he is now a sinister secretive sorcerer.
But this isn't the only close study of language we have been doing. We have also been learning how to crack word problems in maths. Special mention must go to Lila, whose amazing explanation of why even though you need to use negative numbers to solve a question, your answer has to be given as a positive. Wonderful attention to the semiotics of a tricky maths question!
We have also dug down do the centre of the Earth. Alas, no lost explorers on a Vernesque mission were there to found. However, we did discover that the pressure down at the core would be close to having 50,000 Elephants standing on your head! We also found out that when the magma pushes through two separating tectonic plates, BANG! Volcanic eruption!
We have just got to go into battle with the Athenians and the Spartans to complete a very interesting week!
Mr Stevenson
11th September 2017
So that is the first week over for the new year 5's. What a busy week of learning we've had. No messing about here, just straight into the curriculum, Maths English and Science. A very fast start to the new year and I'm proud to say that they all rose to occasion magnificently.
Well done to everyone!
This coming week we will be doing more of the same, only more so!
In Maths we will be learning all about decimals and rounding. In English we continue with our Fairy Tale theme, and start our first proper Big Write.
In Science we will look more in depth at our place in the solar system – The Third Rock From the Sun.
We will start studying the Ancient Greeks in History and the impact the Hellenic civilisation has had on the world.
And finally in PE we start to dance!
3rd July 2017
Well it's been a busy week again in Hartsbourne. I hope everybody enjoyed the Summer Fayre, it was brilliantly put together and I certainly enjoyed myself.
In the previous week we have learned all about how to start a business, how to become excellent orators and how create pop art collages. So we have all been keeping very busy indeed. Well done to all in Year 5,  I was so proud of how they managed to rise to all of these challenges.
19th June 2017
WOW! what a fantastic assembly,  I am sure you will join me in congratulating Year 5. They kept us all entertained and performed excellently. It was wonderful to see the class pull together and perform as an ensemble. I was very proud of each and every one of them.
This week is SPORTS WEEK! So please remember to have your PE Kit, I'm  sure nobody would like to miss out on the activities we have planned.
It is going to be another HOT week, so don't forget to keep your water bottles filled and ensure that you are keeping yourselves hydrated.
Mr Stevenson
9th June 2017
We have had an exciting week this week… it was science week.
The class made some paper helicopters with Mr Harper and, experimented with gravity and buoyancy Miss O'Sullivan.
We also tried to turn our literacy into science experiments, creating Mobius strip poems – with a re infinite.
Well done to Tanaiya, who created her own at home.
Next week,  is our class assembly – we will be practicing very hard to put on a good show.
Mr Stevenson   
26th May 2017
Wishing you all a happy half term  holiday. Isobel and Aaron D have decided to set all the parents a maths problem which they have created.
In a ball shop, there are 516 balls. There are 4 types of balls. Golf balls, basket balls, foot balls and tennis balls.
There are 219 tennis balls.
The amount of basket balls is 1/3 of the amount of tennis balls.
The amount of footballs is double the amount of basket balls.
How many golf balls are there?
….
23rd May 2017
Nearly the end of the half term, and what an enjoyable half term it has been, we have had many exciting lessons and activities, from the K'Nex challenge, to reading The Hobbit and investigating interesting problems in Maths.
This week (Thursday) we are going to make some fruit Kebabs, which should be healthy and tasty. Just a brief reminder, don't share your fruit with anyone else, we have to be very mindful of allergies.
This week as well we finish writing our quest stories, which has been a very long progress, but I think the children have all benefitted from allowing our imaginations the freedom to go where they will.
16th May 2017
It's going to be another exciting week in year 5.
this week Year 5 are completing a massive Tolkienesque writing task. They are creating a fantasy quest story, a summation of all they have learned so far, I expect to be spellbound, enthralled and gripped.
This week we shall also be looking at more complex division and finding solutions to some quite interesting problems – including decimals.
In ICT we are going to continue with our animation programmes, I have been very impressed by the children's ability and aptitude in making these computer generated little animations. Watch out PIXAR is all I can say!
Mr Stevenson
8th May 2017
I have been greatly impressed with the children's writing capabilities. We have been looking at how to incorporate some very high level writing techniques into our work. The children, have used all these techniques to write some very scary descriptions, I think they might have done a little too well, as I have been having nightmares all week!
In maths we have studied the effects of rotation and symmetry. I think everyone will agree that it wasn't as easy as they first suspected. However, they are really starting to get to grips with geometry and show real understanding.
This week we are going to shift focus and start studying weights and measures. A great skill to master as when used in the kitchen it is the only maths problems that you can eat!
Mr Stevenson
2nd May 2017
I hope you all had a happy May Day, I'm sure all the children appreciated the break after a busy week in Year 5.
On Tuesday we had the K'nex Challenge. The challenge, which is run by SETPOINT hopes to introduce enginnering and design into schools. Around 200 schools take part with a prize for the winning design.
 The children were given the task of building a moving bridge that could not only withstand a whopping 5g of weight but also looked aesthetically pleasing.It was a very difficult challenge and all the children worked hard to solve this rather complex engineering task. But in the end there could be only one winning team.
Well done to Hailey and Isobel who won in Year 5.
The challenge fit quite nicely into our maths lessons, during which we explored the properties of 2d and 3d shape. No doubt this extra insight helped the children visualise their creations before setting forth with their building.
Thinking about it this week in literacy we are looking about how to build suspense and tension into our writing using techniques such as different sentence lengths and repetition.
I wonder if creating a suspension bridge in the challenge will help?
Mr Stevenson