Saturday 4th November 2017
Good afternoon!
I trust you all had a restful half-term as the children were certainly raring to go on their return to school this week!
A new half-term means the start of a lot of new units. In literacy we have started writing recounts about our trip to Bentley Priory Museum, and have been practising using colons, semi-colons and dashes to introduce information into a sentence and connect clauses. In maths we have started to learn about fractions and have spent the week simplifying them, comparing them, ordering them and finally converting them into decimals and percentages. In computing we planned our multimedia presentations about World War II, in science we learned about Charles Darwin and how he came up with the theory of evolution, and in geography we learned about climate – I wonder what the children can tell you about the following climate zones: polar, temperate and torrid?
Next week we will be planning, drafting, peer marking and publishing our recounts in literacy, as well as moving on to look at improper fractions and mixed numbers in maths. In science we will attempt to understand and explain the theories of evolution and natural selection, in PE we will continue our unit of dance with the brilliant Candice Conway and in DT we will start to think about the shelters we are making this term. An action-packed week as always!
I'm looking forward now to reading all of the half-term holiday homework! Have a lovely weekend and I will see you all next week 🙂
Friday 20th October 2017
Happy half-term holiday!
We had a bit of a different week in Year 6 this week, completing some assessments in reading, grammar and maths. I was pleased to see lots of progress from last time and hopefully after half-term we can push on even further! I also enjoyed seeing the half-term home-learning tasks in all their glory on Thursday morning, completing a virtual experiment with the class in science and thanks to everyone who donated spare change in some brilliantly decorated boxes for our harvest assembly. The highlight of our week was Friday morning's trip to Bentley Priory Museum, where we learned all about Sir Hugh Dowding:
The half-term holiday homework task has been uploaded to ShowMyHomework, and I'm looking forward to seeing what everyone produces! Until then, have a restful week and I will see you all on the 30th! 🙂
Friday 13th October 2017
Good afternoon!
It's been another hard-working week in Year 6! In literacy we planned, drafted, peer marked and published our science fiction stories, which I am really looking forward to reading during the half-term holiday! In maths we did two tough days on positive and negative numbers, and then two even tougher days working with BODMAS and the order of operations! In science we completed an investigation about dissolving, in PE we played some tag rugby games, and on Monday we completed our pieces of book-themed art for display in Bushey Library, which you can see below:

Next week we'll be doing some assessments, so I'm looking forward to seeing how much progress the children have made over the half-term! I'm also looking forward to the home-learning projects being brought in on Monday, as well as our trip to Bentley Priory and Harvest Assembly on Friday! Please remember also an apron for our clay work on Tuesday – it's going to be quite a week!
Have a relaxing weekend and I will see you all next week 🙂
Friday 6th October 2017
Hello, and happy Red White and Blue Day!
Everyone looked resplendent in their red, white and blue colours, and thank you very much for all of the money raised which will go towards an excellent cause. As well as dressing up, we also had service-themed spelling passages this morning, wrote letters to the parents of the service-family children expressing our gratitude for the job they do, and formed a human Union Flag by lying on the playground, a task which the children needed some persuading to complete! For more information about this worthy charity, please visit www.redwhiteblueday.co.uk.
As well as the fun of today, we have also been working extremely hard all week. In literacy we have used prepositional and expanded noun phrases to create and describe an alien and its transportation container to be used in our science fiction stories next week. In maths we moved on to multiplication and division, with some pretty impressive sums being calculated by the end of the week! In science we created characters to represent solids, liquids and gases, in computing we learned to add animations and slide transitions to Powerpoint slideshows, and in French we translated sentences about school into English, using a combination of dictionaries and a smattering of common sense (I know, I know, there is no such thing!)
Next week we will plan, draft, peer-mark and publish our science fiction stories, as well as finishing our calculation unit with some work on negative numbers and the order of operations. We'll also be investigating soluble and insoluble substances in science, learning how to create hyperlinks in computing, and continuing to sing the song 'Silver and Gold' in music. Another busy week for sure!
Have a lovely weekend and I will see you all next week 🙂
Friday 29th September 2017
Good afternoon!
Firstly, humble apologies for waiting this long to write my first entry of this academic year. It's been one of those months! Fortunately however, the children have been completing some excellent work all week.
In literacy we have started a science fiction unit by reading an extract from 'War of the Worlds', and have spent the week summarising, unpicking the more challenging vocabulary, drawing what we think the first alien looked liked based on description, and creating some brilliant role-play news broadcasts to describe what happens in the extract. In maths we have started our calculation unit with a lot of different work on addition and subtraction, in computing we started learning the basics of using Microsoft Powerpoint, and in art we drew some fantastic still-life sketches, which you can see below: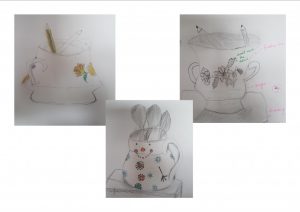 Next week we will be designing our own alien and our own alien container to be used in our science fiction story in literacy, moving on to look at multiplication and division in maths, learning about the particles of solids, liquids and gases in science and (weather permitting) starting to play some tag rugby in PE! Remember also that it's Red, White and Blue Day next Friday, so I look forward to seeing you in all your flag-themed glory! Don't forget to bring a £1 for the privilege; it will go towards the charity – www.redwhitebluecharity.org.
Have a lovely weekend and I'll see you all next week 🙂