Thursday, 12th September 2019
Welcome to year 3  –  2019-2020!
Here are some photos from our first week together, getting to know each other and working in teams:
We change our school books on…

Monday

Tuesday

Wednesday

Thursday

Friday

Casper

Ashton

Madiha

Megan

Aashiyana

Jonah

Isaac

Ijan

Ethan

Emma

Gracie-Mae

Xavi

Dylan W

Dimitri

Alec

Adam

Oliver

Zoe

Noah

Ruben

Calum

Gaheez

Olly

Talya

Rahavi

Dillon H

 
Information from 'Meet the Teacher' session on Tuesday, 10th September 2019:
Homework: spellings and Maths uploaded every Friday and expected to be completed/learned by the following Thursday.
Spelling test on Thursday
PE on Friday
French on Monday
School trips: there is not going to be a school trip outside the school premises this term, but we have booked an art shop in school and we will let you know more details as it approaches.
Label belongings
Send a water bottle with your child everyday
No toys or distractions can be brought into school. This includes unnecessary accessories.
No more free snacks from school. Children are welcome to bring their snacks from home. (fresh/dried fruits or vegetable)
Spellings : to be practiced in the homework books, to be checked on Thursday, 19th September.
eight
eighth
eighty
veil
vein
beige
weight
sleigh
freight
neighbour
Maths homework:
Find three different ways to partition these numbers:
187= ____+____+____
187= ____+____+____
187=____+_____+____
346= ____+____+____
346 = ____+____+____
346 = ____+____+____
750 =____+____+____
750 = ____+____+____
750 = ____+____+____
Ext. Can you show the numbers in base-10?
Friday 19th July
What a wonderful sight Crazy Hair day was thanks to all the children that took part.
There is NO matheletics this week and NO spellings as next week is the final last two days.
Enjoy the weekend
Mr Stevenson
Maths is on Matheletics and spellings this week will be a blind test
Friday 12th July
What a fantastic week! Down in the nature reserve on Monday making clay faces and melting marshmallows. A big thank you to Mrs Allsop for arranging a lovely day which we all enjoyed.
Friday 5th July
It's been another busy week!
We've looked at sound poetry, multiplication, sundials and everything in between.
Next weeks spelling is a blind test and the maths is on matheletics.
Friday 28th
We've been map making this week. Learning how to use the compass to plot a treasure map. We have also been writing the most fantastic persuasive letters. But for at least VI days amounting to VII hours we have been studying Roman Numerals, to help us with our clock reading.
Maths this week is on matheletics
Spellings are as attached.
Friday 21st June
Happy Solstice!
Well we're all exhausted from sports week. All the children in year 3 were excellent sports, and well done to Fallow the winners this year!
Maths is on Matheletics and spellings are as attached.
Friday 14th June
Well done to everyone it was a fantastic assembly and you all did yourselves proud!
It's been a busy week this week, and the class have really thrown all their effort  into rehearsing the assembly. This time for the duration of the week they have also been studying time and duration. In English we have been looking at how comic books are constructed and by deconstructing them and writing comic strips scripts
In Geography we have been studying local geography and mapping the school. Or at least how it was when it was first built!
Special mention for Zac who has now gained 3 (yes 3!) gold certificates in matheletics!
An amazing avhievement! We are all very proud of him.
This weeks homework is a sports based one.
By Thursday can you come up with  rules for a brand new game?
the best game gets played on Friday afternoon!
 Friday 7th June
Welcome back, to what is the final half term of Year 3! Time flies so fast!
It's that time of year again. Next week the class will present their assembly, telling us all about what they have learned.
This week we have been learning about fractions and I'm pleased t say that 2/4 + 9/18 of the class have got it.
We have also been looking at genre and trying to write in different genres like sci-fi and comedy.
We have also been printing our mosaic pictures. They are currently drying in the classroom and as I write I feel as if I am in an ancient Roman Temple.
Spellings are as attached and Maths on matheletics
Friday 24th May
Well done every one for all the hard work this hard term. Enjoy your break, and I look forward to seeing you next half term.
See if you van work out this maths problem  –  from the nrich website.
The coloured shapes stand for eleven of the numbers from 0 to 12. Each shape is a different number.
Can you work out what they are from the multiplications below?  
First week back is a blind spelling test…
Friday 17th May
Our brows have been sweated with the perspiration of enthused learning, once more this week.
We have been studying the translucent qualities of different materials in a bid to become expert scientifically informed drapers.
We have also been discovering all about Julius Caesar and learning about some of his exploits. We have experienced the life a slave in a mosaic factory…
Maths investigation from the nrich website for Thursday:
Think of a number.
Square it.
Subtract your starting number.
Is the number you're left with odd or even?
Try with other numbers.
What do you notice?
How do these images help you explain your observations?
Friday 10th May
A short but busy week this week, with much learning going on!
From Roman Religion to light waves and the eyes, in four days we've done it all!
No spellings this week as we will be having a hidden word spelling test.
Maths homework is a reasoning question, there isn't a mathematical answer, but rather a way of thinking about approaches to mathematics.
From the nrich website:
Here is part of the conversation between a group of children as they discuss a tall tree nearby:
"I wonder how tall it is?" says Linus.
"I think we could find out ," replies Raj.
"It could be difficult as it's very high," says Toby.
I wonder how they each went about finding out the height of the tree?
I wonder how YOU would find out how tall a large tree in your surroundings is?
Friday 3rd May
Happy May Day!
We have been working hard this week on geometry and adventure stories!
I'm really looking forward to reading some questing tales of magic, myth and dering do.
In science we have been trying to understand the nature of light.
What's in the box – why can't we see?
No Light!
Homework this week is some pre-learning about our Romans Project.
Try to find some great facts about the Romans.
at least one fact for each of these for Thursday:
Gods
Emperors
Sport
Food
Ancient Rome
Spellings are as attached and Maths is on Matheletics.
Mr Stevenson
Friday 26th April
Welcome back.
This week we have been discovering the joys of the universe during Science week.
After the Owl Service came to see us on Tuesday we took a trip around space to understand – why the stars twinkle, where the moon came from, and how to get there.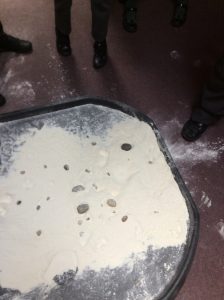 The Craters of the Moon – using flour.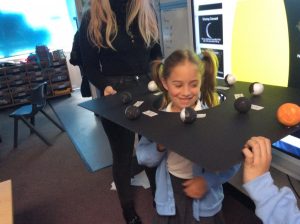 Examining the Phases of the moon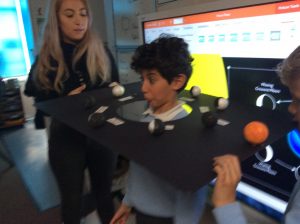 Surprised by the first quarter of the moon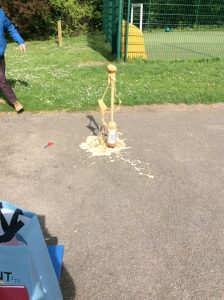 Rocket Power using Coke and Mentos – other soft drinks and minty sweets are available.
Maths homework is on Matheletics and the Spellings are as attached.
Friday 5th April
Happy Easter! Everybody and well done for all your hard work this term!
Homework
Maths from the Nrich website
These pictures were made quite simply by starting with a square, finding the half-way point on each side and joining those points up. This creates a smaller shape (which also happens to be a square) inside the original. The half-way points of this new shape are then joined up to make a third shape. This way of making new shapes is continued until it gets too small to do properly. 
You can, of course, start with any straight-lined shape.
Here's one where I've coloured each new halving line to help to see what has happened more clearly.
 
So, it's your turn to have a go.
It's probably good to start with a fairly large shape since it's going to get smaller and smaller each time.
 
Here are some challenges for you to pursue:
Having made a design like one above, cut out the triangles and the smallest inner shape and rearrange the pieces to form a new shape/design.
Talk about and record the things you notice as you have drawn more and more halving lines.
What is happening to the enclosed area each time the sides are halved?  (Try investigating a regular shape first.)
English
Using the Random story generator write a story.
| | | | |
| --- | --- | --- | --- |
| 1 | A Witch | School | Meets a teacher |
| 2 | An alien | Shops | Meets a supervillain |
| 3 | A fairy | Forest | Meets a monster |
| 4 | A superhero | Desert | Meets a ghost |
| 5 | A child | A castle | Meets a wizard |
| 6 | A pirate | A ship | Meets a rockstar |
Roll the dice three times and have to find out which character, scenario and who they meet to find out what you are going to be writing about.
Include
Action – what a character does
Description – What are they doing
Motivation – Why are they doing it
Speech – What they say and how they say it
Enjoy
Friday 29th March
After a very tiring week of work, we have managed to learn all about Moondog and turn our notes into non-chronological reports and newspaper stories.
In maths we have worked incredibly hard at cracking two-step word problems. A skill not just for school but for life!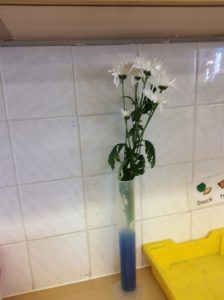 The mystery flower experiment – our science project
What can it be all about?
This week in Geography we have been learning all about Tsunami's and the class have to make a Tsunami for their homework pictures due in on Wednesday 3rd April.
Also to help us with following instructions and solving word problems and using angles I have set the class a very interesting task indeed!
There are no spellings as next week is a blind test.
Similarly the writing homework will be sent home next week.
Maths is on matheletics
Mr Stevenson.
Friday 22nd March
It has been an eventful week in Year 3, with many noteworthy events, but especially our time travelling trip in to the past with Celtic Harmony.  A big thank you to Ms Francesco, Ms Marks, Mrs Smith and Mrs Spanbok who made this wonderful day out work so well. The children all enjoyed themselves and left with some new (old) skills and a better understanding of Celtic life.
We met Bretta an Iron age inhabitant who took us around the round houses, although we entered them in a straight line.  Explained about how they were constructed, as we watched the smoke curing up and through the reed roof. We were taught how to dye clothes, crush wheat for flour to bake bread. Then after lunch, we were taught the art of carding and loom weaving. Bretta then ended our visit with a brief demonstration of flint knapping. Then with no time for napping we were whisked off on the coach and back to the 21st century.
Making dye out of herbs                                                              Making dough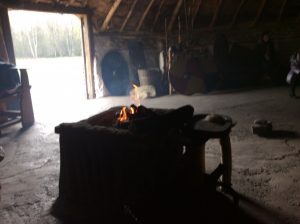 Inside the roundhouse.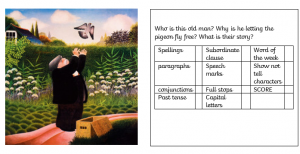 The writing homework is as above.
Parent spelling is rubiginous  – but what does it mean?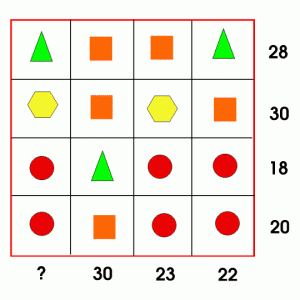 And from the nrich website here is the Maths homework – Can you find out the missing total?
Mr Stevenson
Friday 15th March
It was so nice to meet so many parents at the parents evening this week.
We have been very busy again this week, working away on all manner of things from time and multiplication to the amount of legs found on alien beings.
The children have written some wonderful free verse poems:
The Lonely Moon
The lonely Moon
lay silver
in the night sky
A peaceful orb
in a
portal of pitch
black…
I feel calm
I feel light-hearted
MacKenzie
Oak Tree
The big brown snake
slivering
from the ground
Summer and
Spring alive
Autumn and winter dead
The druid
will worship
the tree like a god.
Emanuel
Homework this week are Spellings and Matheletics.
And now for something completely different … for a new change the children have a homework book. They have to write a story based on the picture. There is a checklist to show them what to include.
Also the term projects are due in on the 5th of April
Parent spelling this week is eucatastrophe – but what is it?
Friday 8th March
What an interesting week that was, what with World Book Day. I opened the door to a plethora of imaginary characters. It was as if a library had come to life.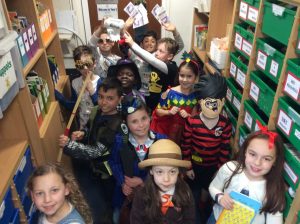 Not only that we have learned all about Tectonic Plates in Geography, and tried to design a pneumatic system using the incorrect materials – a Mr Fiendish lesson me thinks.
We have started to understand time, and done very well indeed.
So next week we will have more Time in maths (the same amount of time, just more Time in it).
Spellings are as attached – this weeks parents spelling is obeliscolychny – can anyone shine a light on what it means?
Maths is on Matheletics.
Mr Stevenson
Friday 1st March
Welcome back, what a wonderful week we have had.  We have spent our time learning how to measure angles (not Saxons), and sent Emanuel around the playground as a Robot giving him simple commands  – Quarter Turn Anti-Clockwise.
We are learning all about different tenses and our writing will be displaying how we could mainted one tense all the way through (unlike me in that sentence).
In Geography we discovered how volcanoes are formed, and are starting to discover the joys of nutrition in science.
We have also started to design pneumatic monsters in DT.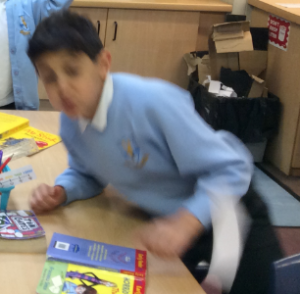 An all action demonstration of pneumatics – A piece of paper being blown across the table using LUNG POWER!
Homework is on matheletics and is some pre-learning about Time ready for next week's maths topic
And the Spellings are as attached. However by popular demand we have a special bonus spelling for the parents:
Supercalifragilisticexpialidocious
Friday 15th February
The projects were once again fantastic, such a range of interesting ideas from a giant Motte and Bailey model to Adria's lecture on the Sun. Cooper entertained us all with his brilliant rendition of Ain't No Sunshine on the guitar – electric no less! It is a real privilege to teach so many talent people! 
This week has been assessment week. They have been excellent, and their focus has been razor sharp. They have worked so hard and certainly deserve their half term break.
So instead of the usual maths homework I've decided to set you a half term holiday conundrum.
Only using + – / x can you make 501 only using the numbers: 
17 8 2 10  6 5 
Enjoy 
Mr Stevenson
Well done to everyone for their hard work this week.
We have nearly completed our journey back into the Iron Age, and discovered that even rocks with holes don't float.
This week we have completed a script and converted lengths  and learned how to play Lonely Mountain.
It's half Term so it will be a blind spelling test on Friday, and maths is on matheletics.
Don't forget the projects are due on Friday 15th
Another week of fantastic learning. 
We've cracked fractions and created characters, we've even taken a journey 3000 years into the past, into a roundhouse, classified rocks, and created pixel art.
Next week more of the same but different!.
Homework is on Matheletics and spellings are as attached.Spellings 1
Spellings 118.1.19
We've been learning all about The Druids those mysterious holders of all knowledge from Britain's deep past, No one knows who they were or what they were doing. But their legacy remains hewn into the living rock, of Stonehenge.
We've dug even deeper into the soil to uncover the secret of the fossils.
In maths we've been studying bar charts, and now we're moving on to mathematics new.
Homework this week is matheletics and the spellings as attached.
Next week we shall classify some rocks –
and learn the story of the there little pigs – from the Wolf's point of view
Mr. Stevenson
11.1.19
Welcome back to everyone from their Yuletide break.
Well we are straight back  into it this term, learning how to deploy commas for devastating effect in our writing and understanding the secretive dark arts of bar charts and statistics in maths.
Our history topic for this term will be what we call The Celts, but (if they called themselves anything other than their tribal names) were known as the *Pritanī.
Science this term is Geology and the strata of the Earth. Rock on!
The Half Termly Project is due on Friday 15th February
As usual Maths homework is on Matheletics and Spellings as above.
Mr. Stevenson
10.12.18
Please find below the costume list for the play. Can these be provided by Thursday
Merry Wassailer: Hats, Scarf, Woollen mittens
Servants: White Shirt and tie, black trousers.
Gott- Thelott Children: Party clothes
Mrs: Gott- Thelott: Long dress
Mr Gott-Thelott: White shirt, bow tie, top hat.
Thank you for your support
Mr. Stevenson
30.11.18
No spellings as next weeks test is a test on the spellings we have already learned.
Matheletics as below
23.11.18
Homework is Matheletics and has been set for the next two weeks
This  weeks spelling is as follows.
Certain
guide
peculiar
consider
increase
possession
island
promise
16.11.18
This weeks homework is on Matheletics
Spelling is as follows:
Centre
Group
Ordinary
surprise
century
guard
particular
therefore
9.11.18
What a wonderful display of HOMEWORK PROJECTS! I was immensely proud of all the effort that went in. THe next project is due on the 14th DECEMBER – with a theme (although you don't have to stick to it) of Winter.
This term all the children are going to learn to recite the poem THE EAGLE off by heart.
The Eagle
He clasps the crag with crooked hands; 
Close to the sun in lonely lands, 
Ring'd with the azure world, he stands. 
The wrinkled sea beneath him crawls; 
He watches from his mountain walls, 
And like a thunderbolt he falls.
Homework this week is on Matheletics Spellings are as follows:
Calender
Fruit
Often
Strength
Caught
grammar
opposite
suppose
19.10.18
No spelling home work this because is a pop test on the spellings we have learned this term.
Maths is on matheletics
MR STEVENSON
15.10.18
Some of the patterns made by Year 3
12.10.18
Homework is spelling and matheletics
Build
February
Notice
Straight
Business
Busy
Forward
occasionally
When a child is a free reader they will be given a free reader book in which to record their reading. The novels that are being read can come from home or school, and should be lead by the child's interest. Every time they read they note which page the started and and finished, and add a little comment to what they thought about the book. I will read and check the comments and talk to the child about the book and suggest – or give – the next book for them to read.
How to use the Free Read book:
Title
Author
Date
Page from to
Comment
i.e.
Charlie and the Chocolate factory
Roald Dahl
12.10.18
Pg 56 – 67
"I thought it was very funny when Augustus Gloop went up the pipes, but I didn't like the Oompa-Loompa's song, because I couldn't understand all the words."
Ideally the Free Read Book should be filled in daily.
MR STEVENSON
5.10.18
A big thank you to Mrs Wayne and Mrs Southern who came with Year 3 on our trip to the V&A. It was an exciting journey, and we were lucky to work with a real designer and see some beautiful and ancient Islamic patterns. I know the children enjoyed creating their own patterns, and I am currently waiting to the V & A to send us their work which I shall post here.
Homework is as follows spelling
breath
famous
natural
separate
breathe
favourite
naughty
special
and comprehension (as added above) to be handed in on Wednesday:
Mr Stevenson
28.9.18
Homework:
Maths is on Matheletics
Spelling is as follows:
Reign
Believe
Experiment
Bicycle
Remember
Extreme
Minute
Sentence
Mr Stevenson
S45C-6e1809210718021.918
Well done to Yanni and Kushal as our new School Councillors – they were chosen using the time old, first names out of the hat method to ensure absolute impartiality.
Homework is as follows:
Spelling
Appear
Excercise
material
medicine
regular
arrive
experience
mention
And reading comprehension please see above, please return to school completed on Monday for marking.
Mr Stevenson
14.9.18
The Homework is as follows:
Maths which is on Matheletics  and the spellings  are below:
Address
Eighth
Length
Question
Answer
enough
library
recent
Please note below as well
For a class display,  we would like the children to bring in a picture of someone that they admire. Preferably the image would be as close to A4 as possible. It can be a fictional character, family member, a musician or famous figure. Please can they bring the image into school on or before 19/9/18.
Mr Stevenson
13.9.18
Thank you to all the parents who were able to come to visit the school today. As requested please find below
Accident
Early
Knowledge
Purpose
Actual
Earth
Learn
Quarter
Mr Stevenson
It was wonderful to meet everyone and I hope you are all looking forward to Year 3 as much as I am.
I will be using this blog to keep you posted on all the excited things that we have done during the week
Mr Stevenson
8.9.18
Miss O'Sullivan and Miss FitzGerald
11.7.18
Good morning! I will send the children home with paper copies of spellings this week as well as posting them on the blog below. There will be no Mathletics homework this week. The children will be meeting their new teacher tomorrow morning (12/7) which they are looking forward to! 
Spellings to learn for 20.7.18 (silent letters revision)
build
guide
guard
wheat
whale
honest
whirl
gnome
gnaw
surprise
Please bring in an old long sleeved top, trousers and suitable shoes in a plastic bag for their forest morning on Monday.
The classroom has been buzzing for the impending England game! We are hopeful #itscominghome
Have a great week! 
Miss FitzGerald
4.7.18
Good morning! Year 3 worked really hard in preparation for the recorder assembly which took place on Monday, we are really proud of them.
I have not been able to login to show my homework today, so I will send the children home with a paper copy of spellings as well as post them below. Maths homework has also been set on mathletics and rock star times tables next week will be x3.
Spellings to learn for 13.7.18
island
answer
write
wrapper
knife
knock
thumb
doubt
half
calm
Have a lovely week! 
Miss FitzGerald
27.6.18
Year 3 have had a busy couple of weeks rehearsing for their assembly and taking part in sports week. We had so much fun during sports week, the children enjoyed the different activities and participated really well. Continuing with sports, the children have been really enthusiastic about the World Cup this year. They each chose a country taking part at random, located it on a world map and researched information about it for a class display. 
We are returning to normality this week and continuing with our persuasive writing. The children have been researching and debating issues such as fox hunting and whether or not people should be visiting zoos. They have been using technical vocabulary and will be planning a persuasive letter. In maths we have been concentrating on statistics, collecting information and presenting it in different graphs.
Due to the hot weather please ensure your child has a water bottle in school and comes to school wearing both a sunhat and sun cream. 
Have a lovely, sunny week! 
Miss FitzGerald
20.6.18
We are very excited for sports week! The children will be taking part in sporting activities including futsal and cricket. We ask that the children come into school tomorrow in their P.E kit ready for sports morning. Here are some of the work we produced during maths week:
6.6.18
Welcome back, I hope you had a lovely half term! The children are beginning a poetry topic, concentrating on Allan Ahlberg. It is maths week so we will be taking part in extra activities which I will post images of next week. We also have a sponsored bounceathon on Friday organised by the Friends of Hartsbourne! 
23.5.2018
Last week, we were getting ready for the Royal Wedding by creating posters with information about Prince Harry, Meghan and their big day.
In art, we have designed a mosaic and made it with paper squares. We are now using tiles to create the pattern, later this week we will use grout to hold it in place. 
We hope you have a lovely half term break! 
Miss FitzGerald and Miss O'Sullivan
16.5.2018
The half-termly homework has been uploaded to show my homework, should you wish for a paper copy I have some in the classroom. This is due by June 8th (the Friday after half term), however if any are completed by next week please do bring them in so that we can share with the class! 
The children have been completing plant investigations in science. They chose what they wanted to investigate, for example:
Can a seed germinate without water? Can a seed germinate without soil? Can a seed germinate without sunshine?
The children had to collect the equipment that they felt would help them with the investigation and set it up in pairs. 
We have been working hard identifying adverbials and subordinate clauses in English. We are planning our adventure stories (based on Moana) this week, next week we will begin to write them.
Miss FitzGerald and Miss O'Sullivan
9.5.2018
The children were researching interesting facts about plants during ICT (to link with their science topic). Some children decided to find out about the oldest tree, others the the tallest plant. In history the children researched, using both books and the laptops, about Roman life to create posters in groups. 
In literacy, the children have been watching clips from the Disney film Moana to inspire their adventure story. We will be spending time describing the characters and plot, as well as using and identifying subordinate clauses and paragraphs!  In maths we will recapping time and position/direction. Rock star times table for this week is x8. Next week, it will be x3.
We hope you had a super bank holiday weekend enjoying the sun! 
Miss FitzGerald and Miss O'Sullivan
2.5.2018
The children have started a new topic – the Romans, they were amazed to see how far the empire spread during this period of time. We looked at the Roman army and the way it was structured. This week in maths, the children have been exploring measure (capacity, mass and length), next week we will be reviewing money, time and position. We have been reading The Hodgeheg by Dick King-Smith, using it to inspire ideas for an adventure story. This week we will be writing and editing our stories. 
Here is some of our art work from this half term, we have been looking at Roman mosaics. We have found out that the mosaics often showed patterns, events from their everyday life and historical events: 
Rock star times table for this week and next week is x8. 
Have a great week (and the upcoming bank holiday!)
Miss FitzGerald
28.3.2018
Hartsbourne children transformed into the 'snake' tribe on Friday. They took part in many daily Iron Age activities: herb mixing, dyeing bracelets, grinding and sieving for flour, mixing dough and weaving. The children were excellent on the trip, we were very proud of them!
We hope you have a lovely break! 
Miss FitzGerald and Miss O'Sullivan
21.3.2018
Good morning! 
We are looking forward to the trip on Friday. There is a notice on the door about what the children could wear should they choose to dress up. This is optional, if they are not wearing Iron Age clothing then please send your child in their school uniform. Please ensure that they are dressed in warm clothing, with a warm, waterproof coat. I have also suggested that they wear wellies with shoes in a named bag to get changed into should they be too muddy for the coach. 
Any questions, please do ask us!
Miss FitzGerald
14.3.2018
Good morning! ALL of the children looked superb on Friday – I barely recognised some! Thank you for all of the effort put into their outfits, it was so difficult only choosing two to win. All of the children enjoyed parading their outfits during assembly:
The spellings have been uploaded to showmyhomework, as we are on a trip next Friday, the test will take place on the Thursday (22.03.2018). 
A quick reminder about the trip – the children will spend most of the day completing Iron Age activities outdoors. Please provide them with appropriate warm clothing and footwear that you don't mind getting muddy.
In maths this week we are continuing with time and moving onto money. Next week, the children will focus on the four operations. In literacy, the children are gearing up to write their reports and continuing to develop the skills needed e.g. paragraphing, tenses. 
Have a lovely week,
Miss FitzGerald
7.3.2018
Good morning. Here are some photos from our science lesson this week:  
This week in math our focus is measure and time. We will be converting between the 12 hour and 24 hour clock, as well as looking at Roman numeral clocks. The children will be continuing with their report topic and developing the skills needed to write one successfully. 
We look forward to talking to you all at Parents' Evening this week,
Miss FitzGerald
28.2.2018
Good morning. Wow, what a great time we had on Friday afternoon at Bushey Meads. The children had the opportunity to be taught by Mrs Hanbury, the D&T teacher at BMS, and use the equipment at the school to make cheese straws. They used a number of skills: mixing, cutting, kneading as well as carefully following a recipe. 
This week we are writing/publishing our Haiku and Tanka poems. We know that these are Japanese poems that follow a certain pattern of syllables per line. Next week we will begin report writing, linking to our Geography topic about volcanoes and earthquakes (extreme earth).
In Maths this week we are looking at different ways of presenting and interpreting data. Next week we will be exploring measurement and reading time (both 12 hour and 24 hour).
Thank you for bringing in empty (and rinsed) washing up and ketchup bottles – please do continue to bring any in that you have.
Have a lovely week.
Miss FitzGerald
21.2.2018
Welcome back! The children have been very busy with cookery week, so far they have made smoothies and biscuits. In maths they looked at reading scales, measuring and weighing ingredients. They also learnt how to say some of the ingredients in French! 
We are looking forward to our trip to Bushey Meads this week and continuing with our cooking!
Regarding the Celtic Harmony trip in a few weeks time, I would advise that children wear wellies or walking boots, as well as warm clothing, as they will be completing activities outdoors. 
In D&T this half term we will be making a pneumatic system, if you have any empty washing up bottles or ketchup bottles (cleaned and rinsed), please can you send them in with your child as soon as possible – thank you!
Over the next two weeks, year 3 children will be exploring different types of poems such as a Haiku and Tanka. In maths we will be visiting fractions this week and moving on to statistics. 
 Have a great week! 
Miss FitzGerald
7.2.2018
Well done to all of those who have handed in their half term homework, we look forward to seeing them this week.
Last week the children took part in the golden mile to monitor fitness.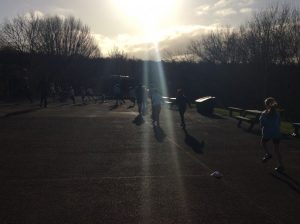 Hopefully you have received information about two trips for next half term. We have been invited to Bushey Meads to take part in a cookery lesson the week after half term. The second trip is to Celtic Harmony where the children will take part in the Farmer Day. This links with the Iron Age topic that the children have been learning about this term, with a focus on Iron Age hill forts, tribal kingdoms, farming, art and culture.
In art, the children have made a series of printing blocks using different techniques. This week we will print them using paint and printing ink. 
Rock star times tables for after the half term will be x8.
Wishing you all a lovely half term break,
Miss FitzGerald and Miss O'Sullivan
31.1.2018
The children have been studying rocks in science, so they created their own fossils:
In maths next week the children will be looking at shapes and identifying perpendicular/parallel lines. Rock star xtables will be x8 next week. In English the children will continue with their unit of alternative fairy tales. The focus will be writing in paragraphs and using speech punctuation.
On Friday, the children will take part in the golden mile. This will take place twice a year and monitor the children's fitness. 
The half termly homework is on show my homework and the due date is Thursday 8th February, please let myself or Ms O'Sullivan know if you have any questions. 
Have a lovely week,
Miss FitzGerald
24.1.2018
Good morning! Year 3 were delighted to begin their football sessions last week. To begin with, the children had to work together to create letters with their bodies: 
They played throwing and catching games linked to team work and cooperation.
Next week, the children will be beginning a new unit in literacy called Traditional tales. Children will write an alternate tale, before this they will explore stories and learn the skills needed for story writing. Next week in maths, we will be exploring methods for multiplication and division. 
Rock star xtable next week will be x8.
Have a lovely week,
Miss FitzGerald and Miss O'Sullivan
17.1.2018
Good morning, please note that reading days have changed this term so check the classroom noticeboard (window) for any updates. 
Also, a further reminder about P.E next week, football will take place outside so please ensure your child has their warm outdoor kit. 
In PSHE the children have been discussing good learning behaviour and setting high expectations for themselves. 'Busy bee' certificates will be awarded on Monday by Ms O'Sullivan for anyone who has consistently shown this behaviour.
The children explored different ways of representing number using dienes. Once they had created the number they used the equipment to add and subtract.
Next week, we will continue to explore methods of addition and subtraction, both mental and formal. In English, we will use the research and planning from this week to write our explanation texts. 
Rock star x tables for next week is x4
Have a lovely week,
Miss FitzGerald
12.1.2018
Welcome back! We hope you all had a lovely Christmas break and we are very grateful for the gifts that we received. Thank you!
On the first two days back the children discovered an egg, nest and feather in the classroom.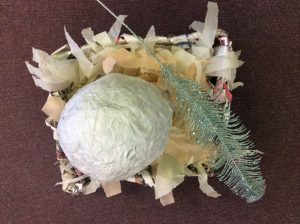 We used these as a tool to create some very imaginative pieces of writing and performances. Each child decided what they thought the creature inside the egg was – this lead to some interesting discussions!
Next week in literacy the children will continue to develop their explanation writing skills and consider how to look after a pet. In maths, they will be solving number and practical problems. Rock star xtables will be x4.
The children will have coaches to teach football during P.E from 25th January. Please can you make sure that they have the correct P.E kit as it is important that they take part. 
Have a great weekend! 
Miss FitzGerald
13.12.2017
Year 3 are very excited to perform to everyone this afternoon and tomorrow evening!  This week in maths we will be recapping multiplication and completing a 'Christmas maths mystery'. 
We were concentrating on a photographer during art lessons called Julia Margaret Cameron, her portraits were different because they were covered in scratches and smudges. We took 'selfies' on the ipad and worked over them with charcoal, 3B pencil and pastel. Here are some of the results:
We are so impressed with the half termly homework that has been handed in so far!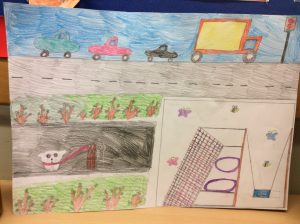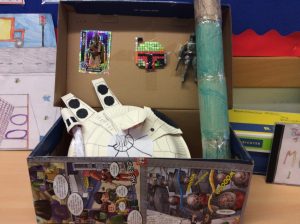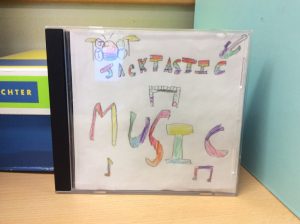 This will be the last blog of 2017, so we would like to wish you all a very Merry Christmas and a Happy New Year! 
Miss FitzGerald and Miss O'Sullivan
6.12.2017
Good morning!
Christmas is fast approaching and the children are enthusiastically preparing for the show; squeezing in singing and rehearsals between lessons. The children will still be doing spellings and rock star times table next week so please check show my homework. We are looking forward to seeing the half termly homework that the children have produced. 
Next week in English we will focus on a book and complete activities around it that link to the year 3 objectives. In maths this week we have been rounding and will return to division/multiplication. 
Rock star xtables x4 and the inverse
Have a great week! 
Miss FitzGerald and Miss O'Sullivan
18.10.2017
Good morning, a few reminders this week:
please bring in ingredients for our healthy wrap on Thursday 19th October
we have our Harvest assembly on Friday, please can children keep learning their lines at home
half termly homework was due yesterday, 17th October, please bring it in or e-mail it to the office
spellings and rock star superstar times tables will be set as normal on showmyhomework from Friday – rock star times tables x4
Thank you for all of your support so far this term.
Have a super  break!
Miss FitzGerald and Miss O'Sullivan
11.10.2017
Everyone looked great on Red, White and Blue day! We talked about the importance of the day and made spitfires to use on the playground. The children have been working hard this week planning and writing their fables, these will be published in their learning journeys.
Next week is the Harvest assembly, where we will be exploring and presenting information on the work of the Red Cross. It is also assessment week (next week), a chance for us to review their learning so far in year 3. I'm sure some of you may be aware that we are making healthy wraps in DT, I will put a sign up sheet on the door towards the end of this week, we'd be really grateful if you could sign up to bring one ingredient in to contribute to the lesson.
The children have really been enjoying their recorder lessons:
A reminder that half termly homework is due Tuesday 17th October, the children can choose a bullet point from the list that I have uploaded  to show my homework to complete.
Rock star times tables for next week will be x3 (we do the rock star challenge on a Tuesday and Friday).
Miss FitzGerald
4.10.2017
Congratulations to our Councillors, Thasanmee and Henry, who won the majority of the votes. This week the children have been looking at the morals found within fables and dabbled in a bit of acting! We will also be looking at using speech punctuation correctly, so that we can apply it to our fables that we will write next week. In maths next week we will be returning to fractions to further our understanding of finding quantities of amounts and ordering.
Rock star times tables for next week will be x3 
A reminder that Friday is Red, White and Blue day, we will be discussing the meaning behind this day. During guided reading we will be focusing on an author, the work produced will help become part of our year group display in the hall. 
Miss FitzGerald
27.9.2017
School Councillors will be chosen this week during Friday's assembly and I can not wait to hear the children's manifestos! We will listen to everyone who wants to run, then vote in secret and await the results on Friday. Good luck to all those going for it! The children will also have their first recorder lesson today, which they have been eagerly anticipating! 
Rock star times tables for next week will be x5, some children will also do the inverse. Please check show my homework on Friday. 
The children have been getting creative by exploring free verse poetry this week and throwing in some figurative language. I hope to upload some examples on the blog next week, the new topic will be fables. Next week in maths we will focus on multiplication, division and using the inverse to check answers.   
Miss FitzGerald
20.9.2017
Welcome to the Year 3 class blog! We really have had a busy couple of weeks. I just wanted to remind you of some of the key points from meet the teacher last week:
Please check your child's reading day on the classroom window
Ensure that they have their reading record in their book bag so that we can access them during guided reading
Homework will be set on Friday, spelling tests are on the following Friday and Mathletics is due Tuesday
Writing sentences for spellings is optional 
Half termly choice homework, select one bullet point per half term
We have been writing instructions in literacy, firstly the children had to write detailed instructions on how to turn Miss O'Sullivan into a frog! We are now coming to the end of the topic and we will be starting free verse poetry next week. Recently in maths we have been focusing on place value and fractions. As of next week we will look at estimating when adding and subtracting. 
Rock star times tables for next week will be x5 and please check showmyhomework on Friday. 
Here are some snap shots of our learning from last week. We used P.E equipment to create the human body and drew maps for our instructions! 
Miss FitzGerald